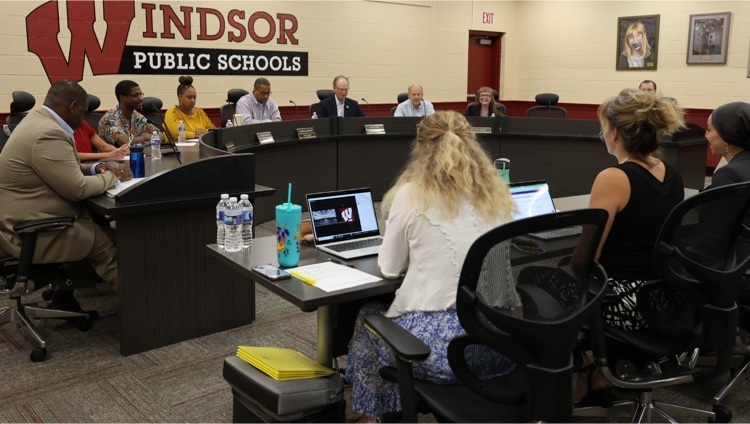 Dr.Hady sits in front of the WPS BOE, who unanimously voted to approve her appointment as assistant superintendent for instructional services.

Windsor Public Schools is thrilled to introduce Dr. Noha Abdel-Hady as the new Assistant Superintendent for Instructional Services. Dr. Hady brings a wealth of experience and a student-focused approach to her new role. Having served as our district's STEM Director from July 2016 to December 2022, she has already made a significant impact on our educational community.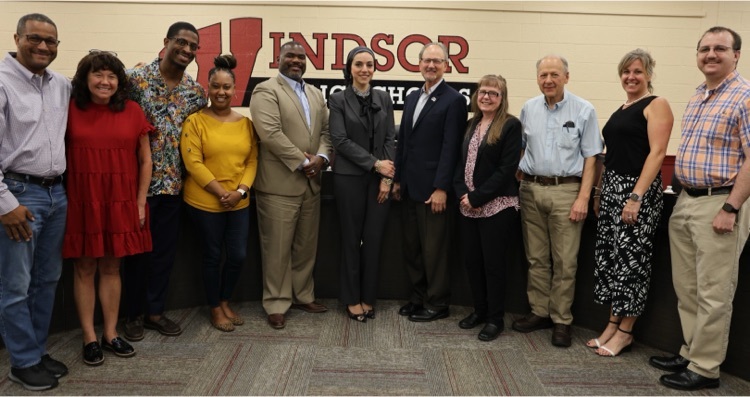 Dr.Hady pictured with the WPS BOE, Superintendent, Dr. Hill and Director of HR and Business Services, Danielle Batchelder.

In hiring Connecticut's first Muslim cabinet-level administrator in the state, Windsor Public Schools continues to break barriers and promote diversity and inclusivity in educational leadership. By further diversifying our leadership team, WPS is taking a step forward in creating a more equitable educational system that values and respects individuals from all backgrounds.
"My journey embodies the power of breaking barriers and shattering stereotypes. It symbolizes the inclusive society we strive to build in our own schools here in Windsor, where merit, passion, and dedication supersede gender or religious affiliation. I do not see my appointment as only a personal achievement but a testament to the progress we are making as a society and school district towards equality and representation. I hope my presence in this position inspires young girls, regardless of their backgrounds, to dream big, embrace their uniqueness, and pursue their ambitions fearlessly. I come from the STEM field and now in this new role, I will continue to show our young girls in Windsor and across Connecticut that STEM is for us and Leadership is also for us, if we can dream it, we can achieve it. " -Dr. Noha Abdel-Hady
Dr. Hady's dedication to fostering student achievement and her commitment to professional growth have been evident throughout her career. As a K-12 Principal for Madina Academy in Windsor, CT from August 2013 to December 2015, she implemented innovative strategies that elevated student outcomes and created a positive school culture. Her expertise in instructional coaching, gained from her previous position as a Mathematics Instructional Coach for Hartford Public Schools, has proven instrumental in supporting teachers and enhancing their instructional practices.
Dr. Hill congratulates Dr. Hady on her new appointment as Assistant Superintendent of Instructional Services.
As the Assistant Superintendent for Instructional Services, Dr. Abdel-Hady will lead the district's efforts in implementing research-based instructional practices, fostering a culture of continuous improvement, and promoting equity and access for all students. She will work collaboratively with teachers, administrators, and staff to ensure that Windsor Public Schools remains at the forefront of educational excellence, prioritizing student achievement.

Dr. Hady holds a Doctor of Education Degree, a dual Master's degree in Education with a focus on Educational Leadership & Curriculum and Instruction, respectively, and a Bachelor's degree in Elementary Education. With her extensive educational background, coupled with her hands-on experience in various leadership roles, we trust her to effectively lead the district's instructional services with a student-centered approach.
The Windsor Public Schools community welcomes Dr. Noha Abdel-Hady as the new Assistant Superintendent for Instructional Services. Her exceptional qualifications and unwavering commitment to educational excellence will undoubtedly propel our district forward, ensuring that every student receives a high-quality education and is prepared for a successful future.
#weareWINdsor