During the May Board of Education meeting we had the opportunity to honor students from both Windsor High School and Sage Park Middle School. Here is what Principal Parker had to say about his honorees.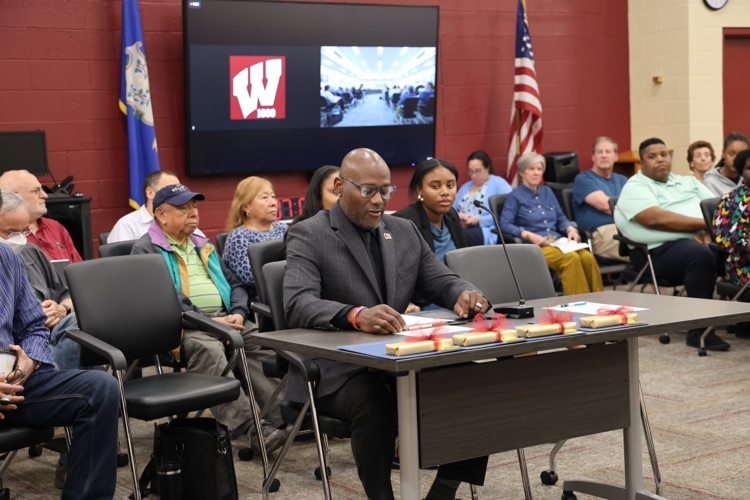 I have the privilege to present to you two outstanding Windsor High School Senior award recipients of the Connecticut Association of Boards of Education (CABE). I've observed their leadership voices evolve throughout their 4 years, developing into the role models they are today! While several students are worthy of this honor, these two student leaders have separated themselves through their academic performance, hard work, dedication, and student advocacy.
Saige Dehaney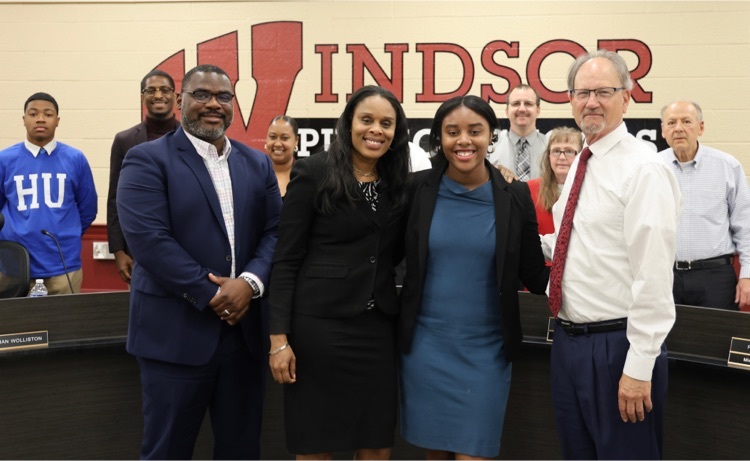 Saige engages in extensive community service initiatives such as fundraisers that benefit Breast Cancer Research and Treatment, food drives connected to local churches, and anything that supports engaging youth. Her smile and spirit are infectious and she's the type of person that will not only brighten your day, but enhance your heart. Saige is always positive, and at times, where one may think she could hold the right to feel slighted, she will go into action planning mode and graciously say, " we've got this!"
While thoroughly embracing all people and cultures, Saige upholds a strong sense of responsibility in modeling and illuminating Black excellence. Since her childhood days, Saige has been socially aware of the marginalistic views attached to people of color. These observations and experiences have motivated her to facilitate public speaking along with partnerships with peers and adults and participation through organizations and programs like Anytown, Windsor High School Leadership Council, Leadership of Greater Hartford, The National Black Cooperative, The Windsor High School Action Club, and the End Racism Now mural in the town of Windsor.
Saige has exhibited time and time again that she holds the skills to excel at anything she does, but her potential is something no one can forecast. The sky's the limit for this young lady because her work ethic is impeccable. Her character and infectious personality are arguably her most outstanding attributes and her efforts to help others extend well beyond the walls of Windsor High School.
One could go on and on about Saige's efforts, potential, and what she means to Windsor High School and the greater community; but, I will close with this: Saige is the epitome of a Windsor ``Portrait of a Graduate'' and embodies all of the CABE leadership skills with emphasis on Willingness to take on challenges and concern for others. Sage will be attending Howard University in the fall.
Tristan Davis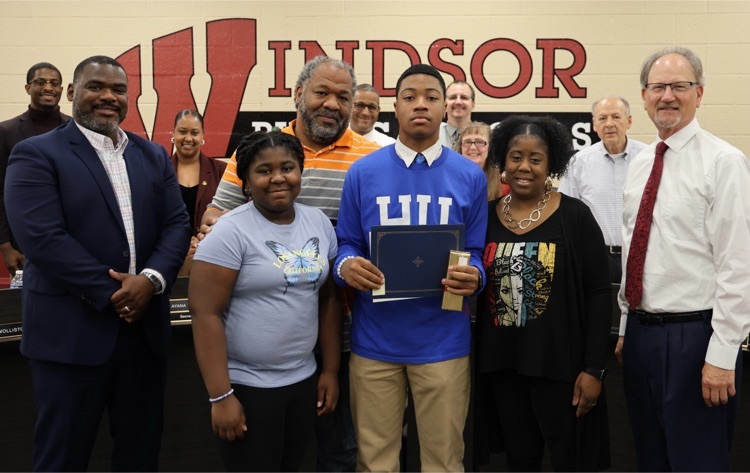 Tristan is Windsor High School's Second Semester BOE Representative and he is doing a tremendous job.
If you have been to any Windsor High School Musical Performances, you would have seen Tristan in action doing what he loves. Tristan has been committed to the trumpet, and creating music since a young age. In addition to music, Tristan has proven to be a solid and consistent student, role model and leader, but what stands out most about him is his work ethic and the pride he takes in everything.
Tristan is a Student Advisory Leader, leading SEL lessons during our Connections block to Windsor High School underclassmen. He has committed four years to our Air Force JROTC program, currently serving as the Operations Squadron Commander. He is a four year member of the Jazz Ensemble and Symphonic Band, assuming these leadership roles in his junior and senior years.
Tristan is very planful, intuitive, and embodies every CABE leadership element; with emphasis on honoring commitments and diplomacy. We look forward to the leadership he will bring, to whatever he does beyond the walls of Windsor High School. Students like Tristan make dreary days bright and remind one of why they chose to be an educator!
Tristan will be attending Howard University in the fall.
Sage Park Middle School Recipients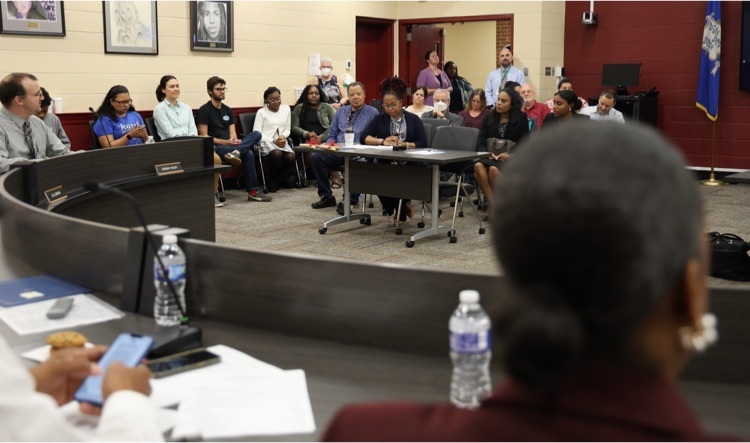 Shai Ann Downs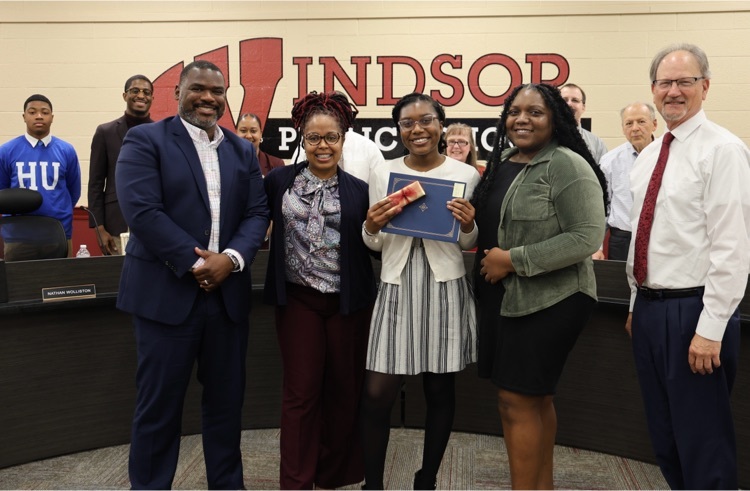 Shai Ann Downs deserves this award because of her leadership and dedication to Sage Park. Shai Ann has done a great job managing her time and education. Her constant growth and preparedness shows her leadership as a role model to her classmates.
Mr. Guerrera shared, "Shai Ann is mature beyond her years and has shown time and time again that she can block out distractions to focus on whatever goal she sets for herself to achieve. She is a hard worker who understands the value of educators' time and does not hesitate to put in extra hours to turn an adequate project into an excellent one".
Shai Ann Downs has proven that she is always willing to take on challenges even when they are complicated. Shai Ann fights hard for what she believes in and never takes no for an answer. She makes sure she stays on top of her academics so that she can be more successful. Shai Ann is the true meaning of a warrior. She fights for her education, mind, and voice no matter how hard it gets.
In the classroom, Shai Ann always shows kindness to her peers even when they get on her nerves at times. Shai Ann still shows kindness despite adversity. Shai Ann has been described as being kind, hard-working, and determined to do well. She is a great advocate for self/diplomacy. She works well with others but also knows when to focus on herself. Her daily decisions focus on being the best student she can be despite having to make difficult decisions. Academically, she has shown emotional and academic growth in her classes. She asks questions to understand a concept or issue clearly and doesn't stop asking questions until she fully understands.
Mr. Yeoman shared, "Shai's maturity and focus is evident in the way she leads by example in the classroom. She is a determined, proactive student who commits to mastering concepts even when they are difficult, and is not hesitant to seek extra help to ensure she succeeds. She is respectful of her classmates and works well with others."
Shai Ann's leadership serves as a role model for other students. Congratulations to Shai Ann Downs, the recipient of the 2022-23 CABE award!

Daniel Garcia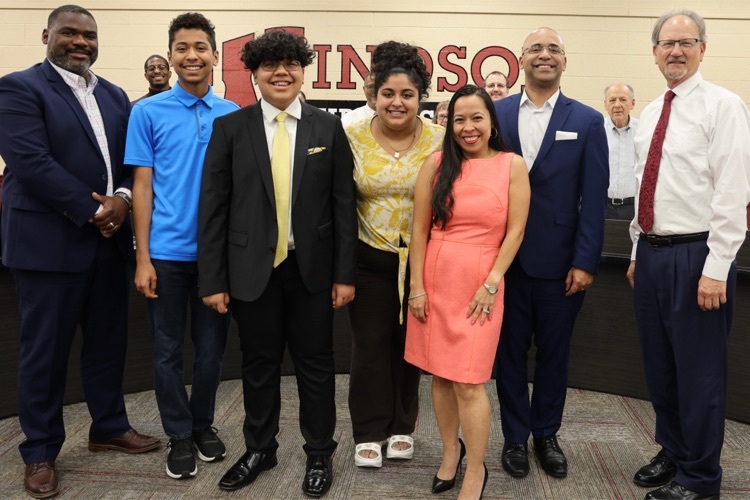 Daniel has earned this award through his leadership and academic performance.

Daniel has shown many leadership qualities in his three years at Sage Park Middle School. He is always willing to help the students around him when they need it. He also takes the time to explain the problem or situation as he helps while problem solving. Not only does he help in academic scenarios, he also likes to get involved in the community.
As president of National Junior Honor Society (NJHS), he assembled members of the NJHS to join him in helping during the Project Santa event for Windsor. Project Santa provides toys for children in the Windsor area who otherwise may not be able to receive toys during the holiday season. He is also working on making changes to Sage Park with the help of the NJHS members.
Daniel's ELA teacher, Ms. Haynes shared, "Daniel is a responsible leader who is always looking for ways to improve his school for his peers."
Not only is Daniel a leader, but he's also very skilled academically. He has been placed on the High Honor roll every year he's been at Sage. He has also received additional awards including student of the month, the Windsor Education Association Book Award, and the Presidential Award in 5th grade. He finds ways to push through even when he faces academic challenges. He is never afraid to ask for help. He always gives 100% of his effort to school in order to achieve success.
Congratulations Daniel Garcia!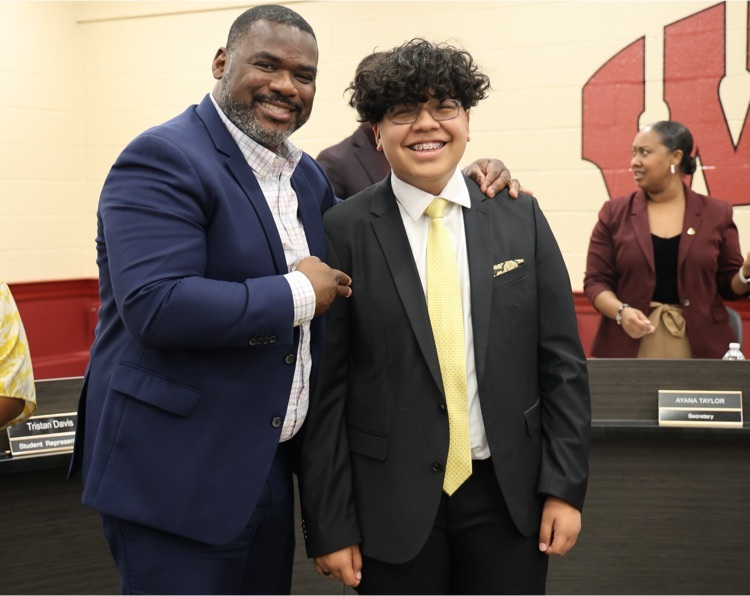 #weareWINdsor